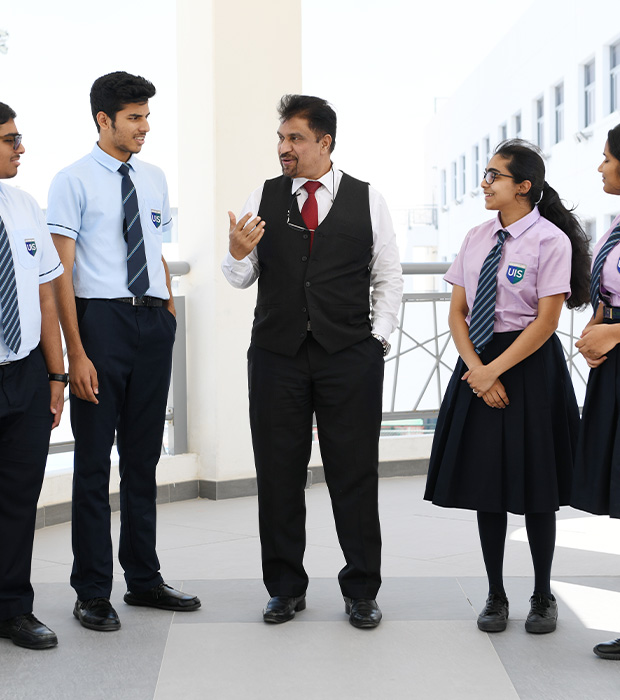 Secondary School
The Secondary School
Grades IX & X
During these years, each student's intellectual, aesthetic, physical and cultural growth is strengthened and extended to a foundation course that enables them to excel in the CBSE board examination. A smooth transition from childhood to adolescence progressively adds value to their primary education.

NOTE: The All India Secondary Examination, conducted by the Central Board of Secondary Education, New Delhi, is held at the end of Grade X.
Subjects offered in CBSE
English
Mathematics
Science and Technology
Social Science
Optional languages include Hindi, Malayalam and French
Arabic is a compulsory subject in Grades IX and X. A school based internal examination for Arabic is conducted in both the years. Islamic Studies examination is conducted for Muslim students in both the years.
Work Experience, Art Education and Physical Education classes as per CBSE requirements are also woven into the curriculum.
Senior Secondary
Grades XI and XII
GEMS United Indian School affiliated to CBSE, currently offers the following options of subjects for Grades 11 and 12.
SCIENCE STREAM
Group 1- Mandatory Subjects: English, Physics, Chemistry
Group 2- Any 2 subjects from: Biology, Mathematics, Psychology, Computer Science, Fine Arts, Marketing, Physical Education
COMMERCE STREAM
Group 1- Mandatory Subjects: English, Business Studies
Group 2- Any 3 subjects from: Mathematics, Psychology, Economics, Computer Science, Physical Education, Fine Arts, Accountancy, Sociology, Marketing.
Following options subject to a minimum of 15 registration
HUMANITIES STREAM
Group 1- Mandatory Subject: English, Sociology
Group 2- Any 3 subjects from: Economics, Fine Arts, Physical Education, Computer Science, Marketing, Psychology, Business Studies