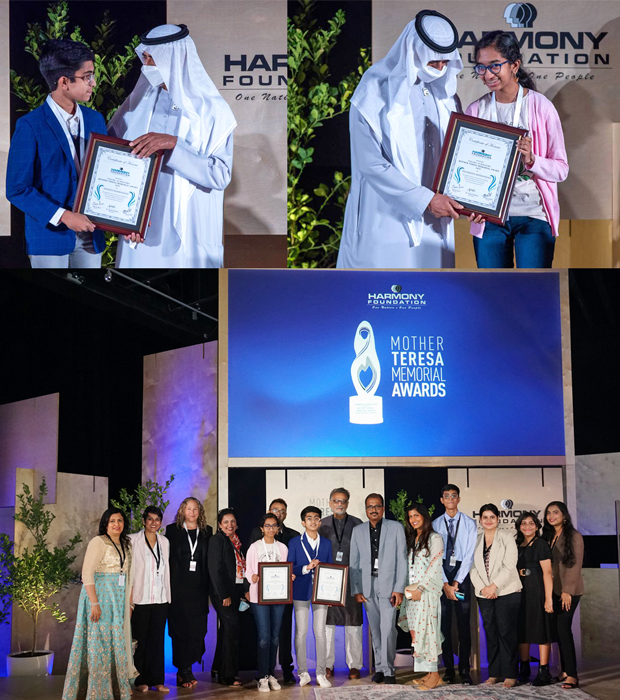 Mother Teresa Awards
The Mother Teresa Award is presented annually to honor individuals and organizations that promote peace, equality and social justice and it aims to encourage the cause of justice and peaceful coexistence. This year, the focus was on "Environmental Sustainability".

The awards ceremony was held for the first time in the UAE, at Manarat Al Saadiyat in Abu Dhabi on 30 June 2022, under the patronage of Sheikha Fatima bint Mubarak, President of the General Women's Union, President of the Supreme Council for Motherhood and Childhood and Supreme President of the Family Development Foundation.

Presenting the awards was Sheikh Nahyan bin Mubarak, Minister of Tolerance and Coexistence, alongside Sheikh Theyab bin Mohamed bin Zayed, chairman of the Abu Dhabi Crown Prince's Court, and Sheikh Mansour bin Mohammed bin Rashid Al Maktoum. The ceremony was also attended by members of the royal family, dignitaries, ministers, and family members such as Reem Al Hashemi, Minister of State for International Cooperation; Reem bint Abdullah Al Falasi, Secretary-General of the Supreme Council for Motherhood and Childhood. Among the 14 honored recipients, the Young Achievers Mother Teresa Award recipients were Sainath Manikandan and Sai Sahana Manikandan.

Sainath and Sai Sahana were the youngest recipients of the award. They were recognized for their involvement in various environmental awareness campaigns and initiatives. As a part of their campaign, they are collecting papers, e-wastes, plastics, and cans for recycling. Apart from that, they also organize cleanup campaigns in their community to keep our environment clean. They believe that "Together we can create a wave of change" and want to change our existing practices into green and sustainable solutions using technology.