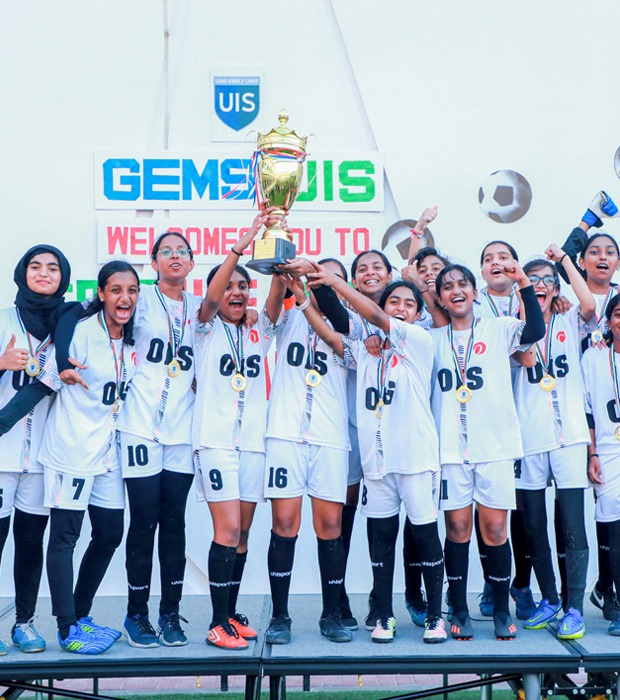 CBSE UAE Cluster Football Tournament for Girls (Under 17)
"Unifying Passion and Achievement": GEMS United Indian School Hosts Thrilling CBSE UAE Cluster Football Tournament for Girls U-17
GEMS United Indian School conducted the CBSE UAE Cluster Football Tournament for Girls (Under 17), an exhilarating event that united young athletes from various schools under the banner of sportsmanship and unity. Proudly hosted on the GUIS field, this tournament served as a celebration of passion and dedication.
Seventeen schools from the region came together on our campus, transforming it into a vibrant hub of energy. The atmosphere was charged with the excitement of competition, as young athletes displayed their skills and team spirit. From quick goals to remarkable saves, each moment showcased the power of sports. Cheers to all the participating teams, coaches, and supporters whose enthusiasm and dedication played a pivotal role in making this event a resounding success.
Heartiest congratulations to GEMS Our Own Indian School, Al Quoz, Dubai, for clinching the Champion trophy, GEMS United Indian School for bagging the First Runner-up position and Credence High School, Dubai, for securing the Second Runner Up position. Finally, a round of applause to all the participants for their unwavering determination and sportsmanship. The HPL Focus of Collaborative, Practice and Resilience were a guiding light during this amazing tournament.