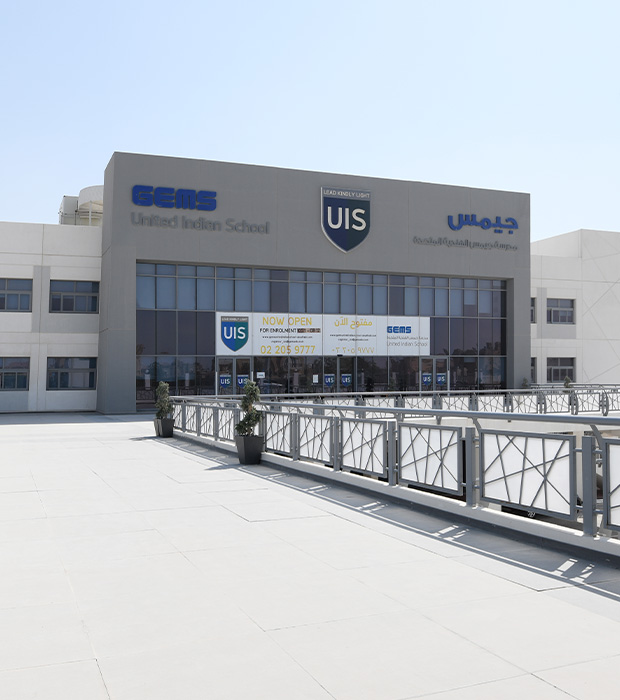 COVID-19 Announcements
School Reopening Policy for Term 2 (September to December, 2021)
As we plan for the reopening of our school for Term 2, starting August 29, 2021, please note that you may take a call to decide on whether you would prefer to send your ward to school (Face to Face) or online (Distance Learning) for this term only.
Our reopening plan is as follows:
KG to Grade 8: Alternating Day Model
UIS has adopted the Alternating Day Model from the options proposed by ADEK. In this model, 50% students will be attending school on a given day. Every grade/section will be split into two gender groups Group A (Girls) and B (Boys), based on social distancing norms. Each group will report to school as per the schedule below.
| | | | | | |
| --- | --- | --- | --- | --- | --- |
| | Sunday | Monday | Tuesday | Wednesday | Thursday |
| Week 1 | Group A | Group B | Group A | Group B | Group A |
| Week 2 | Group A | Group B | Group A | Group B | Group B |
| Week 3 | Group A | Group B | Group A | Group B | Group A |
| Week 4 | Group A | Group B | Group A | Group B | Group B |
Grades 9 to 12: Full Day Model
UIS has adopted the Full Day Model proposed by ADEK while complying with social distancing norms. In this model, 100% students will be attending school on each day of the week. This provision has been made in line with the intention of preparing students thoroughly for their examinations and practicals. We intend to cover the curriculum as per schedule and ensure students have enough time for their practicals and revision sessions.
Kindly note that as per ADEK notification, full tuition fee will apply to students, regardless of the model that you may prefer.
Enrolment and Attendance
Homeschooling is not recognized in Abu Dhabi. Parents should be informed that students that have been unenrolled in Abu Dhabi schools for a term may be at risk of having to repeat that term and may encounter issues with equivalencies at a later stage. (Source: ADEK Reopening FAQs for school 29/July/2020)
Our Commitment
GEMS has a dedicated team of diverse professionals who are leading our return to school project. This includes experts, in operations, health and safety, crisis and risk management, medical care and security. The team are working to ensure that the highest operational standards are delivered. GEMS is ready to operate and welcome our students and staff back into our schools. Please read on for the measures we have taken to make school safe for your child.
Risk management
A detailed risk assessment has been developed to support students' and teachers' safe operations in school and in the buses. These measures will be regularly reviewed for necessary modifications from time to time. Quality assurance checks will also be conducted to monitor the effectiveness of Health and Safety measures.
Training
All staff will undergo specific Covid-19 E-learning training prior to the start of the new term. In addition, teachers will regularly communicate and provide information to students and parents on the associated risks, safe practices and controls.
Students arriving and leaving school
Students will arrive and leave the school at the determined start and finish time. One designated drop off and pick-up area has been identified within school. Trained security personnel will be present at school to support traffic flow and ensure health and safety measures are adhered to. The entrance points are fitted with thermal imaging cameras, which will record each student and staff member's temperature. For those persons with a temperature above 37.5 C, they will be guided to a dedicated medical room within the school, where further temperature and medical checks will be taken.
Attendance
Attendance is mandatory for all students unless they have the following COVID-19 related symptoms (Fever (37.5 C or above), Cough, Body ache, Fatigue, Shortness of breath, Sore throat, Runny nose, Diarrhea, Nausea, Headache, Loss of smell or taste ) or a high risk medical condition that warrants isolation attested by a registered medical practitioner.
Physical distancing in school
Classrooms and Corridors
We are aware that physical distancing procedures are an integral part of managing the risk and spread of Covid-19. Physical distancing in classrooms are set up to accommodate reduced capacity at a 50% reduction that would mean an average of 15 students per class. Desks will be set at a safe distance apart of 1.5 meters.
Teachers will be positioned at the front of the classroom area, at a distance of 1.5 meters from the front row desks. Safety markings will be set up throughout corridors, the markings will dictate safe distances. Students will be monitored to ensure adherence.
Assembly Areas
Large gatherings will be cancelled or strictly limited. Where such gatherings are needed, strict controls will be implemented at a school level. This will include reduced capacities, with seating arrangements to accommodate safe distancing of 1.5 meters.
Canteen Services
Trolley services (selling food and water bottles) will be available on the floors for students of KG to Grade 5.
Staggered breaks have been incorporated in the time-table for students of Grades 6 and above to access Canteen services. We encourage parents to send packed meals and enough water for their children to avoid moving to and from the canteen.
Seating arrangements will be clearly marked out in canteen areas, no students will be permitted to sit directly adjacent or next to one another. Students from the same class must adhere to safe distances.
Personal Protective Equipment Requirements (PPE)
All teachers and all students (KG – Grade 12) are mandatorily required to wear face masks. Wearing of gloves is highly recommended.
Face masks can be removed during strenuous physical activity. It is suggested that students bring two disposable masks to school per day or one re-usable option. Hand sanitising stations are set up throughout the school, with clear instructions and signage available. Waste bins are made available all across school for disposal of masks and gloves.
BBT Transport Services
Bright Bus Transport LLC, the authorised transport service provider for GEMS United Indian School follows all applicable regulatory issued protocols with regards to the operation of student transportation.
All BBT employees will wear and be monitored for the required Personal Protective Equipment (PPE) when operating services.
Buses will be operated at 50% capacity in line with the regulatory guidelines. Buses will be sanitised each day as per approved cleaning protocols.
Students will be monitored for any health concerns and temperature checked on entry. Students with temperature of 37.5 C or above will not be permitted to board to bus.
Student travel will be registered through our touchless ID system. This will also record any student health observations for track and trace requirements.
Cleaning and hygiene procedures
As part of the revised and increased cleaning and sanitisation processed, all potential frequent touch points including, door handles, light switches, hand rails, taps and washbasins etc. will be cleaned thoroughly throughout the day, on an hourly basis using approved municipality chemicals. A thorough deep clean and sanitisation of the school will be conducted at the end of each week.
Maintenance
All maintenance works within schools will continue to be conducted by professionals. Regular planned preventative maintenance activities will take place, in line with all regulatory requirements.
GEMS United Indian School thanks ADEK for their continued support in facilitating routine COVID check-ups for teachers and for supporting all efforts to make schooling safe and enjoyable for students of Abu Dhabi. Any updates in policies from ADEK will be shared with parents as and when received.
Here's how GEMS Education is ensuring the safety of your child