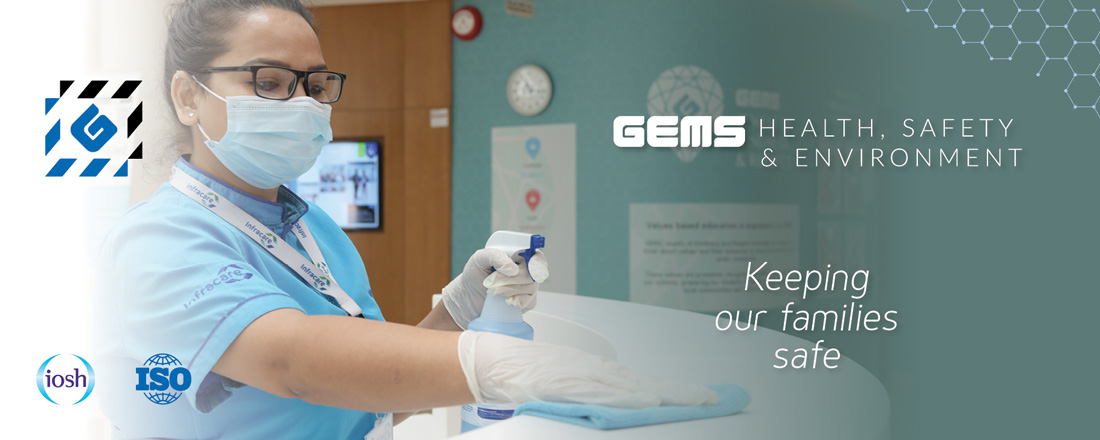 At GEMS Education, the health, safety and welfare of our students, staff and parents are of paramount importance. Since the beginning of the COVID-19 pandemic, we have introduced enhanced cleaning procedures and protocols to ensure the safety and welfare of all the children in our care across all our schools. We also work closely with the UAE authorities and approved cleaning partners on an ongoing basis, so you can rest assured that our operational practices ensure a school environment that is safe and secure for your child.


Health and Safety Standards in our Schools

Our Health and Safety Heroes in Action

A Message from Dr. Mirrah
Senior Doctor at GEMS Education
Frequently Asked Questions
How is a potential COVID-19 case managed in school?

If a student or member of staff is suspected of being a positive COVID-19 case, they will be immediately taken to the school isolation room. Only the school medical and emergency services team are permitted to enter the isolation room and only if wearing full PPE. The student's parents will be contacted immediately by the school doctor and the required authorities will be notified. The school will strictly adhere to the health authority requirements for managing and transferring any suspected cases of COVID-19. All areas that may have been accessed by a suspected case will be immediately closed and thoroughly deep cleaned and sanitised. In addition, tentative tracing will be conducted to identify those who may have come into contact with the case should the test result come back positive. Each school has a detailed medical procedure plan in place, which details the emergency procedures for each school. This is continuously developed in consultation with the GEMS Health and safety and medical teams.

What is the process in school should someone test positive for COVID-19?

Once a positive case is confirmed, the relevant person will immediately self-isolate for a period of 10 days, while the school leadership/medical team will notify and work with health authorities to identify those that have come in close contact with the positive case. Close contacts will be contacted by the school's principal to advise that they stay in self-isolation for 7 days. It is therefore critical that the contact details on file with the school are accurate and up to date. This includes email addresses and mobile phone numbers. Sanitisation of all exposed areas in the school will also be carried out.

Who is considered a close contact?

As defined by the Ministry of Health and Prevention, a close contact is anyone who has been in close proximity – a distance of less than one metre – to a positive case for longer than 15 minutes. This could include people with whom you study, work or travel on a bus, as well as family members and anyone that resides in your home. Contact tracing will begin from two days before the onset of symptoms for symptomatic cases, or from the day on which the sample of a positive PCR test result was taken for asymptomatic cases.

What is required of those in self-isolation or quarantine?

Anyone required to self-isolate must stay at home for 7 days, during which they should monitor themselves for symptoms of COVID-19. If they develop symptoms, they should seek medical advice immediately and get a PCR test. Should they test positive, they must notify their school immediately. For more information, call 800 DHA (800 342) or read the Coronavirus
COVID-19 Home Quarantine guide.

When can those in self-isolation or quarantine return to school?

After self-isolating for a full 7 days, the person should report to their school's health clinic, but only if they are symptom-free. Our medical team will assess them for signs and symptoms and, if cleared, the health clinic will provide them with a School Clearance Certificate that can be presented to the divisional secretary, teacher or line manager, enabling them to return to class or work.

Anyone returning to school after a positive test result must present a De-Isolation Certificate from their local health authority if they reside in Sharjah or Dubai, or two consecutive negative PCR results if they reside in Abu Dhabi or Ras Al Khaimah. They must subsequently report to their school's health clinic for assessment, to make sure they are clear of signs and symptoms, after which they will be issued a School Clearance Certificate that should be presented to their divisional secretary, teacher or line manager to enable them to return to class or work.

What if my child is feeling unwell?

All GEMS schools are enforcing a "stay at home if unwell" policy that applies to any student, teacher and school staff with symptoms. We encourage parents to check their child's temperature before leaving home and to keep their child at home if they are displaying any symptoms that can qualify them as a suspected case of COVID-19. Symptoms may include one or more of the following:

Fever (≥ 37.5°C)
Cough
Body ache or fatigue
Shortness of breath
Sore throat
Runny nose
Diarrhoea and nausea
Headache
Loss of sense of smell or taste

Thermal cameras pare laced at all points of entry to the school campus. These will detect a body temperature of 37.5°C and above, which is considered a fever. Children will not be allowed on campus if they have a body temperature of 37.5°C and above, as per the regulations, and parents will be expected to collect their children as soon as possible, as they will be denied entry to the school campus.

What can I do to reduce the risk of contracting COVID-19?

Everyone should continue to follow fundamental safety practices that include wearing face masks, practicing social distancing, observing good hand hygiene practices and staying at home if feeling unwell.

What safety measures have been put in place by staff cleaning the schools?

All staff wear full PPE (Personal Protective Equipment) and follow a strict process of regular hand washing, replacing disposable items and social distancing. Each cleaning staff member undergoes a compulsory temperature check at their accommodation.

How are cleaning and support staff transported between their accommodation and schools?

Staff buses are used to transport staff, with an increased cleaning and disinfection regime in place for staff buses using approved disinfectants. Cleaning staff are temperature checked upon leaving the company accommodation, prior to entering the bus.

Does GEMS follow any global health and safety standards?

GEMS follows the highest health and safety standards. GEMS is certified to ISO 45001, which is the global standard for health and safety management systems. GEMS is one of only very few globally accredited education companies that meet this ISO standard.

Does GEMS have a dedicated team to manage its response to Covid-19?

Yes, GEMS has established a taskforce that includes stakeholders from all relevant departments within the organisation. Moreover, each school has a dedicated and trained team of medical and safety professionals, in addition to a central team of senior health and safety professionals.

How does GEMS ensure its service providers follow the same stringent health and safety standards?

All GEMS service providers are selected based upon their high health and safety standards. Our transport and facility maintenance companies, for example, are both ISO certified to the same high standards.

How does GEMS work with the UAE authorities to ensure the highest COVID-19 standards are applied?

Our schools and central teams are in regular communication with the UAE regulatory authorities. We work closely with them on each positive case that is identified, which helps to ensure a consistent and collaborative approach.

Has GEMS developed any technology solutions to support the response to COVID-19?

Yes, GEMS has developed a number of such solutions, including an electronic reporting system and an electronic track and trace system. Both systems have proven very successful in our management of cases and close contacts.